Recently, our team gathered our family and friends to celebrate 60 years in business and in the Wausau community.
We extended invitations to all of our employees, their family and friends, and our local neighbors. Around 500 people joined us as we celebrated 6 decades of product and system innovation, with tours of our facilities and new equipment.
Through factory tours, our team was able to share insight into their day to day, and how JARP cylinder manufacturing and reman impacts our community and the world around us. Our team members were able to show their friends and family all the ways JARP lives out the company mission to save lives, protect America, build communities.
We also shared information about our culture, showing how we're committed to Family, Fun & Passion as core cultural imperatives. Families gathered to celebrate the passion employees share for our mission and each other, and had fun doing it!
Our Quality and Engineering departments set up STEM (Science, Technology, Engineering & Math) activities for our younger guests. North Technical College provided more activities in their Mobile Manufacturing Lab. The activities were entertaining, but also to showcase how interests like building things and playing with technology can lead to career paths in STEM.
This party was a great opportunity for our team and their families to gather in recognition of both company achievement and team achievement. We are a family-oriented and community-minded organization that provides a fun and collaborative work environment for our team members. This was a wonderful way to share our values with the community and demonstrate why JARP is a fantastic place to work.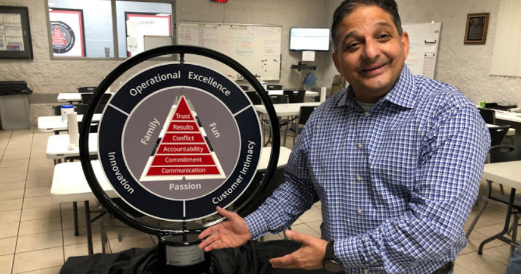 Additionally, the entire JARP team pitched in for a special gift for CEO Sonny Tara. The team came together to design and manufacture a model of JARP's brand pillars, cultural imperatives, and core values. It's a metal free-standing unit made on JARP's own shop floor that now resides on Sonny's credenza in his office. The real surprise is that it remained a surprise right until the big reveal!